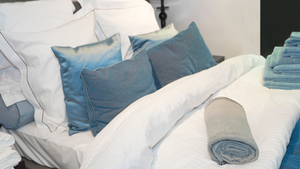 frequently asked questions
There is a big misconception about thread count when determining the quality of sheets. Most people think that the higher the thread count, the better quality the sheet - this is not correct! "Thread count" simply represents the amount of threads sewn into the linen, but it does not determine the quality and softness of a sheet - only the materials blend does. 
As self-proclaimed linen snobs, we prefer to sleep on soft, luxurious sheets, and have educated ourselves on what makes a good quality linen. While thread count does play a role in the quality of the sheet, it really boils down to the blend. You can have a high thread count with a bad fabric blend (i.e., polyester/cotton blend), and it will be either very thin and almost transparent, or stiff and hard (these are the ones you will find in cheap hotels/hospitals). On the flip side, you can have a low (standard) thread count with a finer fabric blend and have a soft, crisp linen. Our standard sheet set is only 300 thread count, but because of the blend, our sheets are silky, soft, and crisp.
So, the next time you are in a linen store/department, compare different sheets of the same thread count and you will almost surely feel the difference. And in the meantime know that when you rent from Sheets at the Beach, you are sleeping on a luxurious linen of a wonderful cotton blend, rather than just another sheet being advertised with a "high thread count" label. Thread count doesn't always really matter!
The safety of our customers has always been our top priority. We have done extensive research as to recommendations for laundering and cleaning hard surface products.
Even though the CDC says the virus does not live on fabrics, all our textiles are laundered commercially every week in high-heat machines that kill bacteria and viruses.
We have always cleaned our baby products with GreenWorks products because they are eco-friendly and safe for pets and humans. We also utilize Thieves cleaning products, which have been proven to be just as effective as bleach in killing bacteria and viruses. These products are also plant-based, and safe for pets and humans, especially your precious babies!
As for our other hard surface items, we continue to use disinfectant wipes on all high-use areas.
COVID-19 Policy: We understand the fears and concerns associated with the Coronavirus, however we are running a business and need to make sure we can stay open for during these unprecedented times. Our COVID policy is if the beaches, stores, and/or boardwalks are open and any Short-Term Rental bans are lifted, then there will be a 75% refund, no matter the cancellation time notice. If there is a stay-in-place or rental ban in effect, then you will get a full refund.
We service all the Delaware Beach Resort areas, including Lewes, Rehoboth, Dewey, Bethany, Fenwick, Ocean View. If the town in which you are staying is not listed on our Service Area page, we do not service that area.
If you choose a delivery area close to the town you are staying in (i.e., you are renting in Selbyville, and put a Fenwick delivery code), an additional delivery fee of $10.00 will be charged to your credit card, or your order could be canceled.
We do not offer standard delivery more than 2 miles inland from Route 1, so if your rental property is more than 2 miles inland on the day of delivery, an additional fee of $20.00 will be charged to your credit card.
At this time, we are not offering in-store pickup. We offer delivery to our service area only.
A cancellation charge will be applied to all orders for rental products if the order is cancelled within 2-weeks prior to the rental check-in date, and will not exceed 25% of the original order.

All orders are to have final quantities confirmed with Sheets at the Beach, LLC by the customer at least 24 hours prior to rental date.
Yes! Our minimum rental period is a weekend, and our maximum (booking online) is a month.
When booking online, automatic discounts are applied the longer you rent an item.\
We require a minimum of three (3) days notice to rent our products. Some rental items are limited in quantity (especially full cribs), so we suggest you reserve your item as soon as possible.
ORDERS PLACED LESS THAN 72 HOURS OF CHECK IN DATE WILL NOT BE PROCESSED OR DELIVERED.
If you are trying to place an order within 72 hours, please contact us at 302-362-0876 for availability.
We deliver the products directly to the rental property, and the additional delivery fee includes drop off and pick up. We do not offer in-store pickup at this time.
We are very strict about and constantly monitor the items we offer for your child(ren). Our company is registered withwww.recalls.gov, and we are notified if an offered item has been recalled or a claim has been filed against a certain and/or relevant product.
If we receive an email about one of our products, the item is immediately removed from our website and investigation of alternative options is performed.
If you receive an item in poor condition, or an item breaks while in your care, please notify us immediately. Failure to do so will result in a replacement charge being applied to your credit card for the damaged item.
At the end of your trip, you should bag all linens in our branded laundry bags (provided upon delivery), and leave the laundry bags outside the front door of your property.
There may also be a basket delivered if you ordered bath towels; this should be left outside with any and all laundry bags.
A $50.00 inconvenience fee in addition to a $5 per bed and/or bathroom will be charged if linens are not stripped from beds or towels and bath mats are not removed from bathrooms and returned to the original laundry bags or containers in which they were delivered and placed outside the property.
Any and all rented items should be left outside the property along with the laundry bags and any baskets for pick up.
A separate order will be generated and you will receive an email confirmation of the charge to your credit card for damaged or missing items. If there are damaged or lost items, you, the renter, are responsible for the replacement cost per damaged or missing item.
We prefer to have the linens and additional items placed inside the home prior to your arrival, but sometimes that isn't possible when renting through a private homeowner or VRBO.
If there is a lockbox or coded entrance, please provide the access information in the respective areas of the checkout process.
If you are staying in a gated community, please provide the gate code as well.
If a key is required for entry, delivery will occur once you have arrived at the property and notify us of your arrival.
Any information you can provide to us to make access into the property easier is preferred. However, there are times when this just isn't possible; in this case, we will leave the item(s) outside the front door.