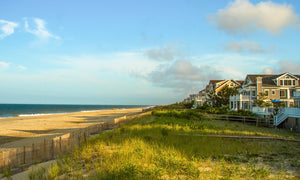 LINEN & BEACH GEAR
RENTAL SERVICE
serving the Delaware Beach Resort Areas
About Sheets at the Beach
Sheets at the Beach is a luxury linen and beach gear rental company serving the Lewes, Rehoboth Beach, Dewey Beach, Bethany Beach, Fenwick Island, Ocean View, DE communities. We pride ourselves on standing apart from our compeition with exceptional product offerings, delivery service, bedmaking services, baby gear, and more.
About the Owner
Hi, I'm Vera Bailey, and I started Sheets at the Beach, LLC when I was doing research for my rental property in Rehoboth Beach. I wanted to offer a luxury linen service that would include making the beds for our weekly renters and was surprised to learn there weren't any companies in the area offering this service. So, alas, Sheets at the Beach was born!

I'm a world traveler, and have stayed in many hotels, motels, rental properties, and resorts. Years ago, I returned from an overseas trip and had to drive straight from the airport to the rental property in western Maryland. I was exhausted after a long day of traveling and dreading the thought of making the bed when I arrived. Needless to say, I was exquisitely surprised when I found that the bed was made for me upon my arrival!

It was luxurious, appreciated, and almost sinful to fall into a warm, comfortable bed. That little gesture made by the owners not only impressed me but also inspired me, and I will never forget that perfect ending to an otherwise exhausting day.

I obsess about thread counts, buying only the most luxurious blends. I also appreciate the comforts of home while staying somewhere that is not, well .. home. And I can relate to how precious vehicle "real estate" is when you are packing for a week-long family trip. So, I started my company to alleviate all your suitcase stresses and clever car packing, and offer you an exceptional, stress-free, pampered start to your vacation.

My service offers a wide range of bed and bath linens, all luxurious cotton blends, and beach and baby necessities. I put a little extra personal touch into my overall presentation because, after all, my clients are on vacation and deserve just that ... a little pampering! I hope to make your vacation less stressful by providing high-quality rental needs for your upcoming visit to the Delaware Beaches. After all, you are here to relax. So, let Sheets at the Beach take care of all your bed, bath, beach, and baby needs ... and tuck you in at night.

Please check out my Testimonials page and see what my customers say about Sheets at the Beach!

I grew up in Potomac, Maryland, a suburb of the DC Metropolitan area. My family has always owned property in Rehoboth. I have been visiting the area my entire life, spending summers working on the Avenue or Boardwalk when I was a teenager. I attended Holton Arms in Bethesda, MD, and Massanutten Military Academy in Woodstock, VA, and graduated from Richard Montgomery High School in Rockville, MD, in 1989. After spending years commuting on the Beltway and later, as a Realtor with my mom and sister for almost a decade, I decided to move to the beach for a slower-paced lifestyle! So in 2005, I packed up my family and made the beach home. I live in Lewes, DE, with my daughter.
★★★★★

It was an absolute joy to use your services while we were at Rehoboth. We could not have been more pleased with the personal attention and quality products.

Denise F.
★★★★★

We especially appreciate your washing the sheets and towels without using fragrances due to our allergies. We know that was extra work for you and wanted you to know your special attention to that detail made a big difference during our stay. Thanks so much! 

Tom & Fran
★★★★★

Top notch experience with Vera. We got all our beds made (with a small fee), towels, chairs and canopy delivered to our beach house in a timely manner

Sheila B.
Ready to book?
rent online now
We offer convenient online booking, right here on our website! Click below to browse our rental products.